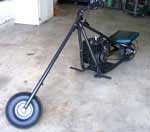 Fig. 1
Fig. 2

Fig. 3

Fig. 4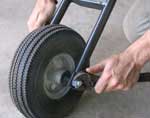 Fig. 5

Burning Rubber
Mini Chopper Wheels and Tires
include "/srv/www/www.diygokarts.com/top-ads.html"; ?>
You can use all kinds of wheels and tires on your chopper.
Some people use go kart style wheels. Some use ATV style. Some use bicycle wheels for up front to get the skinny look. Used a cool wheel? Send us a photo and we'll publish them!
For our small mini chopper, we elected to use 4" go kart style wheels and tires.
This turned out to be an adequate choice for the front, but the rear needed a 5" wheel to provide clearance for the sprocket.
Make Wheel Bushings to Center the Wheel
We used a solid axle, which our 5/8" bearings turn on. Because the wheel is therefore free floating, you'll need bushings to keep you wheels in the center of the axle.
Depending on your wheel hub design, this might become tricky.
Fig. 2 shows one side of the steel wheel and hub assembly that was used. As you can see, the bearings stick out about 1/16" from the hub. A 5/8" flat washer provides a surface for the bearing edge to ride against, and allows the wheel to spin freely. Measure the distance to the axle tabs and weld your washer to a sized piece of cut pipe.
The opposite side of this two-piece wheel made things a little more complicated. Because the hub doesn't extend through the second half of the wheel, we needed a washer small enough to not rub against the wheel. We found the solution (Fig. 3) in a piece of an old bearing race, welded to the appropriated sized pipe. This fit perfectly (Fig. 4), and we were able to install the wheels.
Use plenty of Loctite or some other method to ensure the axle nuts will not come off. Careful not to over-tighten the wheels. This will reduce bearing life, and either spin one of the nuts off, or overtighten the axle bringing you to a quick halt.