Building an Off Road Trail Mini Bike
Plans and How to Information For "Tote Gote" Style
include "/srv/www/www.diygokarts.com/top-ads.html"; ?>
A mini bike is a fun project. These particular plans for an off road mini bike, suitable for camping and hunting. The design uses an ingenious extending pack frame from the rear.
For motoring across the back-country, you can't beat this little workhorse. Its common horizontal shaft tiller-type engine sends it over rough terrain at speeds up to 10 MPH —a great mix of speed and power getting you to remote fishing sites and hunting areas well ahead of your footsore companions.
To hold your gear, an extendable rear rack takes your load, and will carry your taken game. What's cool is that when this pack rack isn't needed, you can either remove the extension pipes or cap them and use a set screw to hold them in place.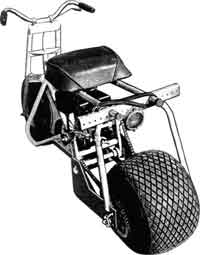 For transporting to the hunting area, the whole front fork of the scooter detaches for easier loading. Also, if you can't drive over it, then you can always pack the bike over the hard terrain. In such cases, just remove the fork, strap it on top of the seat, disengage the drive belt, lift the scooter by the front stirrups and "wheelbarrow" it.