Messages

11,564
Reaction score

107
Location
Hi there;
you haven't seen me in a while and I'm sorry..
as I said some time ago:
I lost my old computer and it decided to take my main hard drive and the back up drive (that luckily was connected that day
)
And that caused some 'inconveniences' to put it mildly...
As a result I got unwanted and uncalled for spare time on my hands.
A couple of months ago my sister asked me to fix her motorcycle...
that alone was a whole new story in and off itself... nevermind.
(short she asked a guy on the internet and let him pick the bike up.. not knowing his name.. took us a while to get the bike back
Anyways.. eventually I got the bike and started what should've been a three day job (one to find out what to order, one to wait for the order to arrive)...
SHOULD HAVE -he said-... what a desaster..
the poor bike was left to rot outside for 4 years;
and I am the one now paying for it... we're now approaching the fourth week in trying to fix that dang moped.
I knew the fork was leaking, and I knew the brakes needed attention (discs as well as lines)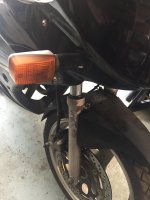 that grime is fork oil...
and that should've been it already (there it is again)
So I stripped the fairing and with it 90% of the screws holding it on.
So new set of screws for the fairing.. okay.. no problem
then I removed the front wheel and the fork..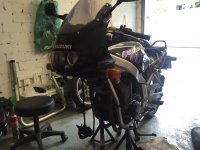 well.. uhm the fork needed to go back on the minute after since I forgot to loosen the caps..
I did NOT loosen the caps, instead I rounded the stinky aluminium hex of one.. so a new cap 85 bucks nope.. used fork it is.
and that quickly became a running gag...
if only it'd been funny.
So moving on while waiting for a replacement fork
master cylinder front brake leaking.. (replaced since that was cheaper than the repair kit)
caliper front brake seized..
frame rusty as can be...
cap of rear brake fluid reservoir seized (stripped screws of course ..this will be the theme remember)
rear brake disc worn out (to be replaced)
right side panel broken (to be plastic welded)
A quick oil change (filter was changed not even 2000 km ago and while that's been years ago the filter should be fine still)
quickly checking the engine and battery..
battery had 2Volts left (TWO!) so I was betting on "no way to recover that thing"
but still.. I conencted it up to a vintage battery charger (no electronic control allowed.. just pure electric transformation and rectification)
and whaddya know, I charged it up over night and it came to 12.9 Volts...
I allowed it to rest for another 24h (expecting it to drop back below 11 Volts signifying at least one dead cell)
but it stayed above 12.7 at all times (I even started the bike with that battery w/o choke.. and 4year old fuel...
it ran well
(no not great that'd be a lie.. but I mean four year old fuel and a likely gummed up carb or two... it ran stable enough for me to be surprised let's say
)
So... plugs cleaned and the rest of the engine will be left as is until it got fresh fuel, then we'll see if the carbs need attention or not.
I spend a week wire wheeling the rust off, soaking the frame in rust remover (acid based I think)
and spray zincing every nook and cranny afterwards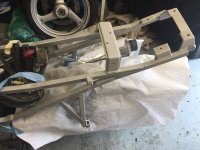 [and there goes the ten pic per post limit... uhm .. tbc!]
.......
'sid
Last edited: