Hi guys,
I recently bought a Dongfeng 125cc go kart for next to nothing. It came with a 125cc honda clone (RN123) and it just didn't have the guts. I'm working on a Predator 212 swap and have the engine mounting system more or less finished. I'm running into some sprocket issues.
The chain and sprockets for the stock 125cc engine are all 428 (pretty common in the motorcycle world). The challenge is the 30 series torque converter I put on the Predator has a #41 sprocket which may or may not work with a 428 chain (it meshes decently well but not where I want it to be).
I'm looking to find a #41/420 sprocket for the rear axle of my kart and do this all the right way, but having a hell of a time finding something that will work. Here's the sprocket that came off:
It mounts to this hub on the axle: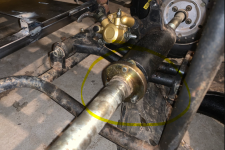 Does anybody have any input on how I could solve this? I tried to find a 428 jackshaft sprocket for the torque converter, but I don't think they exist. Right now I'm thinking my best option is to buy a blank 420 sprocket and drill the holes myself, but even then finding one with the right bore hold diameter is challenging.
Thanks!!