Messages

487
Reaction score

59
Location
Heres a rescue project nearing complete.
Based on took a 20 gallon tank from a Craftsman 220v 2HP 7 scfm at 40 PSI compressor that had reed valve issues.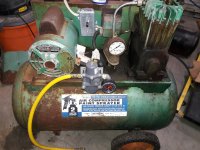 I rook off the original motor and compressor head, and added a Honda GX160 from a power washer that I rescued from the curb on trash day.
On the other end, I added a HF compressor head that I got from the clearance table.
Last week, my brass Control Device stuff was delivered from ebay, then I made a few trips to local hardware places and was shocked that the common plumbing fittings were so high $$, but absolutely required.
Here it is after a short run to test for leaks: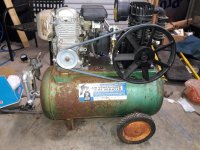 $85 Twin cylinder compressor head
$25 Tank on marketplace
$70 fittings
$40 unloader valve
$15 throttle whip