Messages

1,099
Reaction score

17
Location
Hello everyone. It's been years since I posted in here. Thought i would share a small project. This is phase 1. thinking in a couple years i will gather parts to modify with more power. make it more electric go-kart less power wheels.
I've been looking 3 years for this and saw it at a garage sale down the street from me. $10!!! could not pass it up.
Started testing out clean up. With a heat gun.
came out okay. But then i decided to just paint the whole thing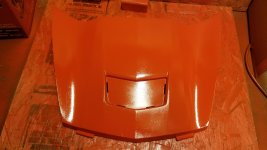 Photo looks orange but comes out RED in the sun.
Scanned in the original decals. So i can remake and print to vinyl stickers