I'm from SW AZ and recently built a go kart for the kids from an old Weider home gym and got a free Subaru Robin EX21.
No plans, just used my head to piece the frame together utilizing the straight and pre bent tubing from the gym. Painted it with SPI epoxy under AkzoNobel UTech single stage. All leftover so no cost to me.
Kids love it. I like it too. 27mph on the road with live axle. Right now I'm rebuilding the motor after throwing the rod while whipping through the neighborhood.
From this...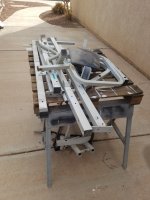 To this...