Messages

487
Reaction score

59
Location
Working on rainy day projects and decided to try to install a 23mm Chinese Mikuni swap onto my stage 1 Predator 212.
First issue out of the box is the carb flange bolt holes are threaded.
Next, I take off the stock (but jetted and working) carb and see that the bolt holes on the Chi-Kuni are wider than the pattern at the Predator intake port.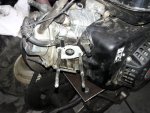 I know the stock studs will have to come out, but what's the deal...
a) did I get the wrong carb
b) do I need some kind of intake pipe to adapt the two patterns ?
c) do I drill the carb flanges out and epoxy as needed ?
<edit> I went back in my purchase history and see I ordered a carb for the wrong engine... its a PZ20 for a 110cc engine. Probably too small to use on the 212.
It was cheap but my hasty click-shopping has cost me money since I have to go backwards or wait on a new one.
Last edited: