...still cheaper than a boat!
Messages

94
Reaction score

24
I decided I wanted to increase the safety of my go-kart while out on the road, whether it be to show my intentions or just to be seen period (especially if driving slowly with my sons on their vehicles). So, I started trying to figure out how to get hazards and turn signals working with illuminated switches. I just spent several hours redesigning my circuits, testing, and installing my custom hazard lights and turn signal setup. One flasher relay, two Blinker Genie 2s (dual role for front markers), two switches (SPDT, DPDT), two diodes, a resistor, a terminal block, wire, various connectors, and my whole night and it's done. Here's what it looks like...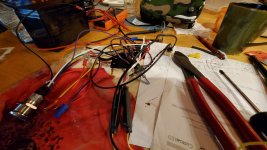 I'm not sure what kind of overkill to do next...
Bonus horn relocation: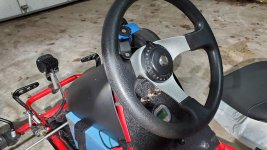 Last edited: