Always wanted to build one but it never really worked out but now my kids are getting older and I think it's time. I wanted a project to practice welding and make something fun. I don't have a bender so it will be a pretty basic rectangle. Something simple with 4 wheels and eventually a harbor freight predator 212
I ordered a seat and a kit off Amazon that had a complete rear axle with wheels, front spindles/wheels, and hydraulic brake caliper. The sprocket was for a weird size so I had to get one for a #35 chain. I thought the axle was 1" but it's actually 7/8" oh well may upgrade later but for now I'm going to roll with it. Got a rack and pinion steering kit also with tie rods that I will have to shorten.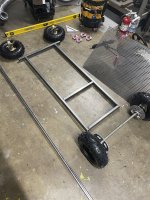 I got 20' of mild steel .095 1"x 2" square and 10' of 1"x 1" square and started cutting and tacking in place. The 1"x 2" should be plenty strong and keep from bowing even with my big behind on it lol(2" vertical). Even found some cool perforated 16 gauge in their scrap pile for a floorboard.