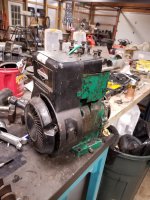 With all the flatheads that I've been tearing apart because of some failure or another I figured I'd throw one together with all the parts and some extra mods.
Engine 1 was a worn out briggs that powered my Manco 485 for a while before I decided I wanted more reliability and power. (212 with stage 1) At some point further along it got dropped off a table and broke off a piece of the head and messed up the sparkplug threads. Then the oil fill cap fell off when it was on another kart and I hosed down the driveway with oil, eventfull life for this one.
Engine 2 was found in a dumpster with stuck valves and a rusted out tank. After freeing up the valves I found the crack running all the way across the bottom.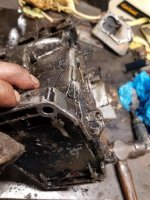 Engine 3 was a generator engine that was ran low on oil and smoked like a freight train. I gave the block and piston/rod from engine 1 to my friend and got this one.
I ended up with the head, pison, cam, and rod from engine 2, the crank, flywheel, and sidecover with bearing from engine 1 and the block with valves from engine 3.
As an expirament I modded the cam so it now has more lift and duration. Not sure on exact measurments.
I also plan on knocking down the eyebrows by the valves and maybe a light shave on the head.
Custom intake and exhaust will follow. I'm planning on using a honda clone carb as I have a few laying around, and will have to see of I can get the broken exhaust bolts out of the block.
This is deffinitly going to be a mosquito fogger even with a fresh hone on the cylinder.