Messages

367
Reaction score

389
This rolling scrap yard that l assembled last year is getting some paint and body panels.
to refresh your memories this is the collection of scrap metal of which l speak.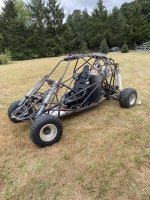 so l plan to put a coat of blue paint on it. Mainly to keep rust away.
in the process of stripping it down and thinking about options for body panels, l stumbled across some really cool perf material, in my collection of materials. So l fabbed up one panel and stuck it on.
Now what do you think? Opinions please!
I think it should work well. Its .090 thick, light weight, 50% aluminum + 50% air!
l'll need to scrounge more to finish, so if the majority opinion is, butt ugly, l'll. Go with solid stock.
l'm going to get the chassis prepped so l can start shooting paint on the first 60 degree day.
it needs to painted and re assembled by April 20. Stay tuned!