Messages

251
Reaction score

28
Location
I'm ecstatic...
A deal that I've been working on for about a month now, just came together and I picked up 2 more Fantic TX5 go karts yesterday morning. The one pretty much matches my other 2 karts, but the other one... a twin-engine setup. WOW, I never knew Fantic made one.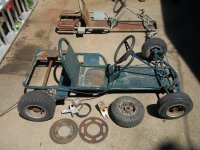 AND... in on the deal I got 3 disc brake setups... I had never even seen an original Fantic brake setup before.
PLUS... another set of Pirreli tires on the turbine wheels.
OH WAIT... my Fantic TX5 Broncco dreams got even better. I came across a guy overseas who had a stash of NOS Fantic TX5 parts, so I bought what he had ($$$)
Seat covers, sprockets, and center grease caps...
My one finished TX5 is nice, and it's fast, but I just don't feel right about running a
CHINESE
Predator on it. I'm still working on a more proper engine setup...