Messages

491
Reaction score

61
Location
The EZ Out or Easy Out screw extractor set offers a low cost way to remove the remaining part of a broken bolt.
I had to do this repair on a broken bolt on my CVT driven clutch the other day and thought I might have to scrap my 212 crank, or replace the motor, but everything went well with the extraction, so I have a couple of pics to share and my stage 1 Predator will rev again !
The most difficult step in the extraction process is drilling a hole in the center of broken bolt. Use a punch and hammer to make a divot so you can start drilling in the center.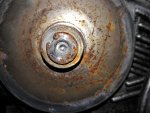 Continue drilling in the center of the bolt, and be careful to stay away from the threads, as running the drill bit through the threads will not generally help.
If you are removing a larger bolt, you may need to step up a couple of sizes on the drill bit to make the hole large enough for the extractor.
Use a tap handle or a crescent wrench to turn the screw extractor into the freshly drilled hole. It will thread its self as you turn it in the counter-clockwise direction to loosen the remaining piece of the bolt threads.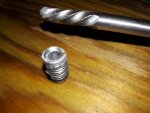 If the drilling and extraction goes well, you should end up with something like the piece of threaded material as shown above.
Lessons learned from previous attempts over the years:
Avoid breaking hardened steel tools off in the bolt when attempting extraction.
Start drilling with a decent sized drill bit so you don't break the bit off in the hole you are drilling.
Take it easy when using the EZ-out to remove the broken bolt. I have broken an extractor tool before, and that is a bummer.
Celebrate when all goes well !