Messages

491
Reaction score

61
Location
Not using as a tool yet, but hopefully will make a demo video if it works as expected.
I'm attempting to make a gear driven tubing bender out of a tired old engine.
Here's where I got the idea:
I found a couple of YT videos the other night where people have made gear driven metal benders using a flywheel and starter gear, or a gear set and sturdy bearings. One video the builder used a lathe to turn a set of mandrels and I like the idea of having interchangable mandrels, but got no lathe. (I think his channel is MeanWhile in The Garage)
This setup bends square tubing and is capable of making an "S" shape bend.
The other video (in Russian(?)) shows making a bender out of gears and bearings.
He is bening round tubing, and showed how he made a mandrel adapter. This setup can also be used to bend flat stock edge-wize and I was really impressed by the minimal simplicity of that design.
I want to take some of their ideas and apply it to one of my own... to use an old engine (Kohler SV600) to see if I can make a DIY bender without access to a lathe or spending lots of money.
Here's how far I got tonight:
Started with a really dusty engine that had a sticking exhaust valve. Engine was purchased for 30 cents a pound at the scrap yard... about $24 bucks.
I took the case apart and took out the crank for a couple of modifications.
I removed the huge balancer weights and cut the crank snout so it does not go past the bottom of the case.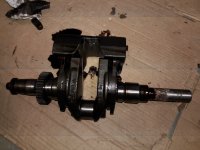 Also took out the cams and left out the rod and piston and head since they are not needed.
Here it is all back together, with some 5/16" or ~8mm thick flat bar and some 1/4" or 6.35mm thick angle iron because those are the heaviest pieces I have my stock pile.
I think I will use the cylinder head area to mount some kind of feed roller for the work piece.
I plan to make some mandrels that will bolt onto the flywheel and try to use the flat spot where the ignition pickup was mounted to hold the stationary end of the work piece.
I will use the opposite side of the case where there are a couple of case bolts with flat space in between to mount the starter wheel (drive gear) in between.
At least that's the plan for now.
Last edited: