Moving into snowmobiles now that it's winter and found some for cheap.
First is a 90's Yamaha ovation. Aircooled 340cc two stroke twin. Not sure on year or anything like that. Got it for free off marketplace from a guy that got it at a garage sale.
Next sled we got at the beginning of this week.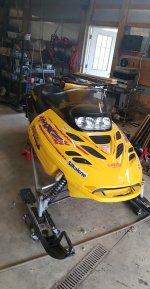 It's a 2000 Skidoo MXZx 440. 440cc liquid cooled twin with a studded track. Got it for 200 because it "needed a transmission". Figured out that the transmission (chaincase) is fine and both the primary and secondary were nuked. Shoulda said Hi to Karl while we were out that way.
That should be it for now. Going to go to an atv salvage yard tomorrow to see if we can find an exhaust for the Ovation and clutch parts for the Skidoo.