Messages

49
Reaction score

0
Location
Hey all! I'm new to the go kart world and was wondering if anyone can advise me. I've been wanting a go kart since I was a kid, and I found one for sale on the road the other day for 150 dollars. I bought it because it had an engine, a solid frame (although the floor panel needs replacing), and it was easy to get home. The engine wasn't running, but I'm good at small engines so one un-stuck exhaust valve later we're up and running. Couple problems though:
The chain is rusty and I'm having trouble removing it for replacement
The clutch is engaging when it shouldn't and I need to take it off and clean/sand/grease it but I can't get the chain off
The wheels appear to be split rims because they're bolted together, but they're plastic and need replacing and all the replacements I find have bearings which would mean the drive shaft wouldn't spin the wheels.
SO basically I need to find out how to take off the wheel but they're like stuck, and then I need a replacement wheel (I'll attach pictures). They're hooked up kind weird... does anyone know what to do?
Thanks!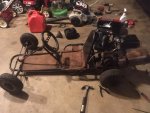 (kart)
Front wheel
Rear Wheel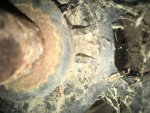 Connection between rear drive shaft and wheel(?)
Rear drive shaft to sprocket