Messages

1,101
Reaction score

1
Location
Hi guys- I'm starting this hopefully as a resource for all of us to tap into. If this is a thread somewhere else on the forum, plz cancel it. I won't be butt-hurt.
I have at this point, very little to contribute to this thread except a tiny bit of personal experience.
So far, I'm learning that the most beautiful rattle-can paint job will NOT stand up to the normal abuse of gokart coating because of chips, dings and the occasional gas/oil spill. I found that a manufacturer makes a Urethane clear coat (SprayMax Urethane Aerosol Clear Coat) that has both parts separate in the same can. You get all your stuff ready, "activate" the can (mixing the two parts together) and you get a very tough coating. You have to use/coat all your stuff within a few hours or the leftover paint will cure and be no good. I've been restoring my wife's 1973 CB-175, and one of her requests was that I painted the tank/covers dark metallic blue. I used Duplicolor Mirage Blue/Red paint, thinking that the top-coat would be fuel-proof. NOT. So, I'm going to top-coat it with the SprayMax stuff- I'll report my findings here. I'm also going to try it out on the Lowrider v2.0, which won't have to meet my wife's exacting standards.... (I just want it rust-proof)
One of the questions raised is this: HarborFreight sells a Powder-Coat gun and the paint for a pretty reasonable price. Has anyone messed with this stuff, and would it work very well for our purposes?
Here are pix of my wife's bike so far: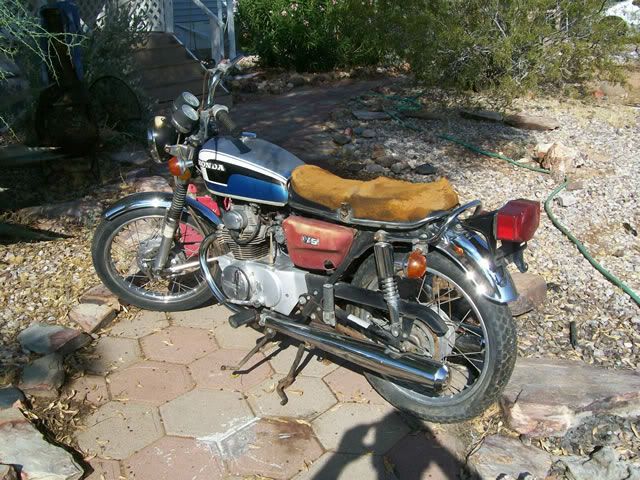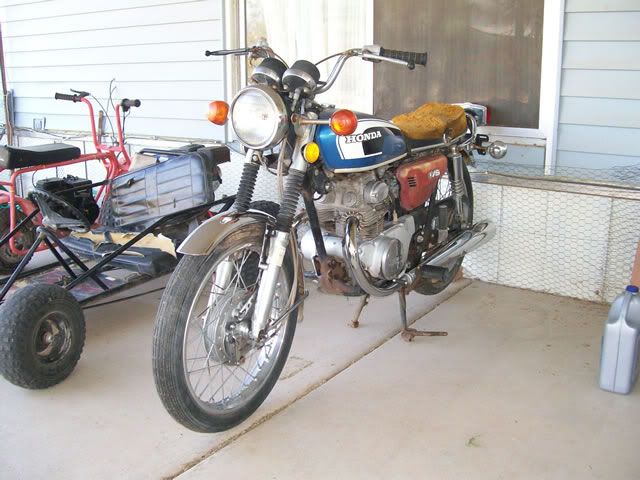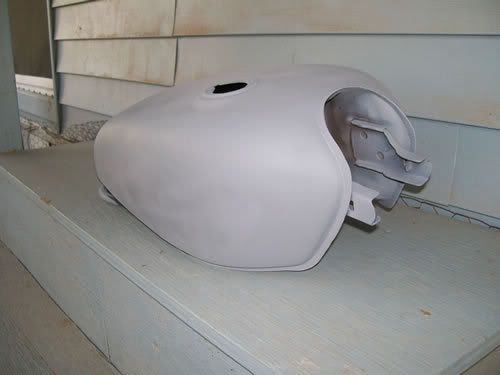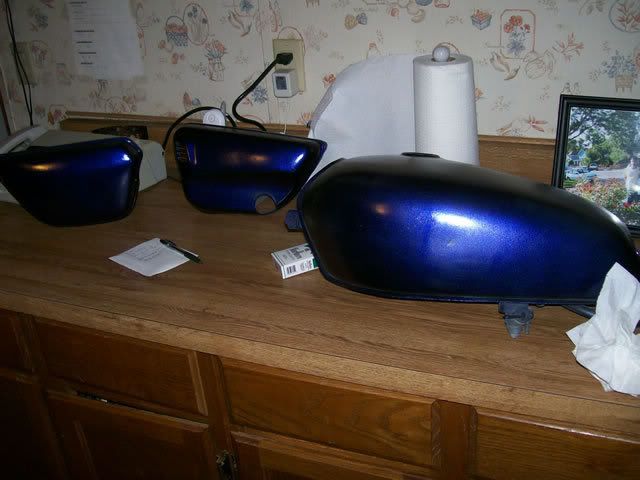 ...she wanted the racing stripes and badges off, so everything is smoothed over and a solid color. Should look pretty unique. We got the bike for very cheap, and it's in great mechanical condition.
Thanks in advance for any advice/info on painting.