2 Liter Tank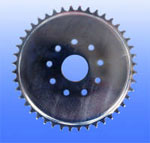 44 tooth sprocket
Chromed Muffler
Clutch + Cable
Throttle
Throttle Cable
Ignition Coil
Carburetor
Chain Idler
Gas Cut-Off
Sprocket Clamp-on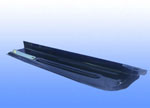 Chain Guard
Bicycle Engine Kits
2 cycle Engine Kits Get Great Gas Mileage
We have top quality bicycle engine kits. Here you'll find our 2 cycle engine kit, and a list of all the pieces of our engine kit.
The Bicycle Engine Kit
These kits are the same as the famous ZBOX kits, which have been sold for many years in Australia. We stand behind these kits completely. Please call us direct at 512-762-7196 with any questions.
Kit Contents
All parts seen below are part of our top-quality kits. There is everything you need to have to convert your bicycle to a motored bike!
Spare Parts
All engine pieces are available as spare parts. We carry all spare parts seen here, both individually and in bulk. Please contact us with questions.

Below: Inclined Head Kit
This is a new design on the market for late 2008 -- the Inclined Head kit. This kit allows a tight fit on your bicycle frame because the spark plug lays at an incline rather than straight up and down. This brand new kit design will fit more bicycles than the other kits available.
Below: A 66cc installed kit
Note that it uses an old-style head, not the inclined head as pictured above. The inclined head is only available on the 48cc engines.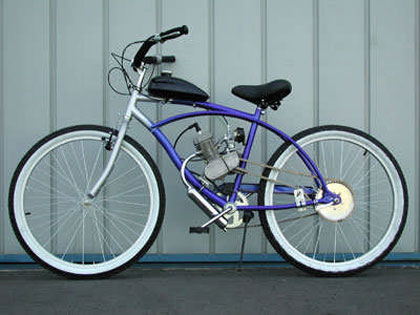 Dealer inquiries:
Our engine kits are sold individually, and in bulk. Please contact us for more information.
We can supply your business with as few as 5 at a dealer discount, and as many as you need. Please contact us at [email protected] to learn more, or give us a call.
Ready to Order?
Limited Time! Only $30 Shipping - (added to final sales price). Sales are processed by PayPal. If you do not have a PayPal account, you can pay without creating an account.
KIT Z50 — $200 for 48 cc kits!
KIT Z80 — $220 for 66 cc kits!
These kits are top quality. No bull. Feel free to call anytime.
Australian Customers: Please visit ZBOX.
New Zealand Customers: Please visit Motrax.